Best Koi Pond Pumps: 6 Reliable Pond Pumps For Ponds of All Sizes (Including What We Use!)
Looking for the perfect koi pond pump? You're in the right place!
I'm sharing the best pumps for koi ponds in this comprehensive guide, along with details reviews to help you choose between them. Keep reading to discover the top six koi pond pumps currently on the market. I also share tips on how to pick the right pond pump for your needs and budget.
Ready to uncover the pump that will keep your koi happy and your pond pristine? Keep reading!
The Best Pump For Koi Ponds: The OASE AquaMax EcoPremium
Drumroll please …. I do have a favorite pump for koi ponds:
The Oase Aquamax Eco Premium is the best koi pond pump for most pond owners. I like it because of its comprehensive features, and because it is incredibly reliable (with a great warranty to match).
That said, there are lots of by other pumps that offer a great balance of efficiency, power, and additional functionalities, depending on your needs and budget.
Here is a list of the best six koi pond pumps currently available. They're in order, ranked from best to sixth place, in my opinion.
I'll include more detailed reviews of each pond pump further below (jump to the reviews now).
But first, here's what you need to consider when looking for a pump for my koi pond.
Factors to consider when choosing a koi pond pump
Choosing the right pond pump is crucial for maintaining a healthy and thriving pond, especially if you want to keep your koi fish happy and healthy.
There are several factors that you need to consider before making a decision. Let's take a closer look at each one:
Pond size and water volume: The size of your pond and the volume of water it contains play a significant role in choosing the right pump. Larger ponds with more water require pumps with higher capacities to ensure proper circulation and filtration. On the other hand, smaller ponds may not need a pump with as much power.
Pump capacity and flow rate: A pump's capacity and flow rate determine how much water it can move per hour. This is important for maintaining proper water circulation, aeration, and filtration in your koi pond. You'll want choose a pump that can circulate the entire pond volume at least once every 2 hours.
A good rule of thumb is to get a flow rate of half the volume of the pond per hour.
Energy efficiency: An energy-efficient pump not only saves you money on electricity bills but also reduces the environmental impact. Look for pumps with high energy efficiency ratings, such as those with variable speed motors or low-wattage models. These pumps can help you save money and contribute to a more sustainable pond ecosystem.
Durability and build quality: You want a koi pond pump that can withstand the test of time and withstand the elements. Look for pumps made from high-quality materials, such as stainless steel or durable plastics. Pay attention to reviews and testimonials from other customers to ensure that the pump you choose is reliable and built to last.
Cost and budget considerations: While cost shouldn't be the only factor in your decision, it is an important one. Consider your budget and determine a reasonable price range for your koi pond pump.
That said, remember that investing in a higher-quality, more efficient pump may save you money in the long run, as it will typically require less maintenance and last longer.
Koi Pond Pump Reviews: The Best Options
Here is a list of high-quality, well-reviewed backyard pond pumps that offer energy efficiency, reliability, and additional features that enhance their functionality and ease of use.
Please note that details and specs are offered to the best of my ability. For the most accurate and up-to-date information check the product listing or contact the manufacturer directly.
Oase Aquamax Eco Premium Review: Best Premium Pond Pump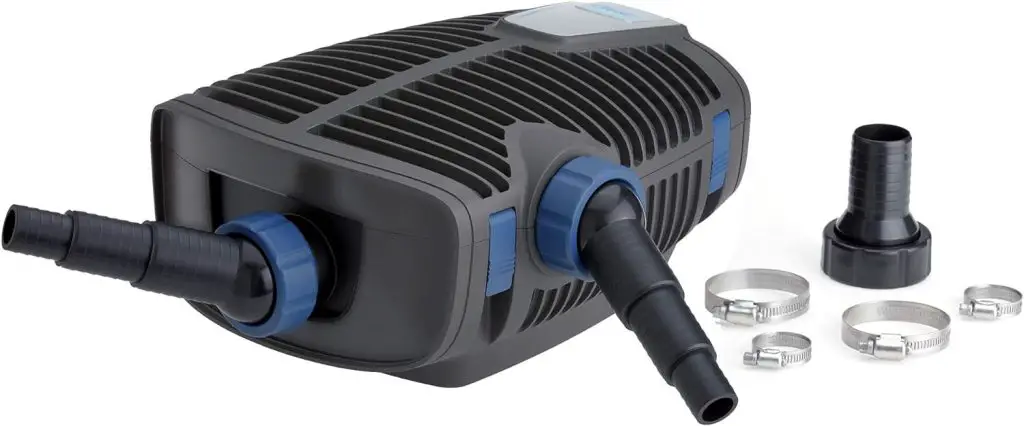 This is my favorite pond pump because of its reliability, efficiency, and lower running costs. I love that it has a patented frost protection system and can work in temperatures as low as -20 C (making it great for helping your koi survive winter).
This pump also offers a 5-year guarantee, which is longer than most other pumps, and has very low energy consumption.
And I'm not alone in loving this one. This pump is widely recognized by pond enthusiasts as one of the best on the market, and Oase has a great reputation for all of its products.
Model Name: Oase Aquamax Eco Premium
Type: In-Line (External) or Submersible;
Maximum Flow Rate: Available in 2000 GPH and 4000 GPH
Power Cord Length: 20 feet
Warranty: 5-year guarantee (3 years standard, plus a further 2 years upon registration of the product)
Additional Features:
Unique patented frost protection system
Protection against dry-running and blockages (Environmental Function Control)
Suitable for swimponds and bathing ponds, as well as koi and fish ponds
Works in temperatures as low as -20 C
Comes with a top-of-the-range satellite strainer
Energy Efficiency: 25% lower running costs than previous models, very low energy consumption
Filtration Capability: Larger filter intake holes, displacement of coarse debris particles up to 11mm
Cons: Like you might expect, The Oase Aquamax Eco Premium isn't cheap. If you have a smaller pond, but you don't want to give up that Oase name-brand quality, check out the OASE AquaMax Eco Classic 1900 Pond and Waterfall Pump.
Aquascape AquaForce Submersible Pump Review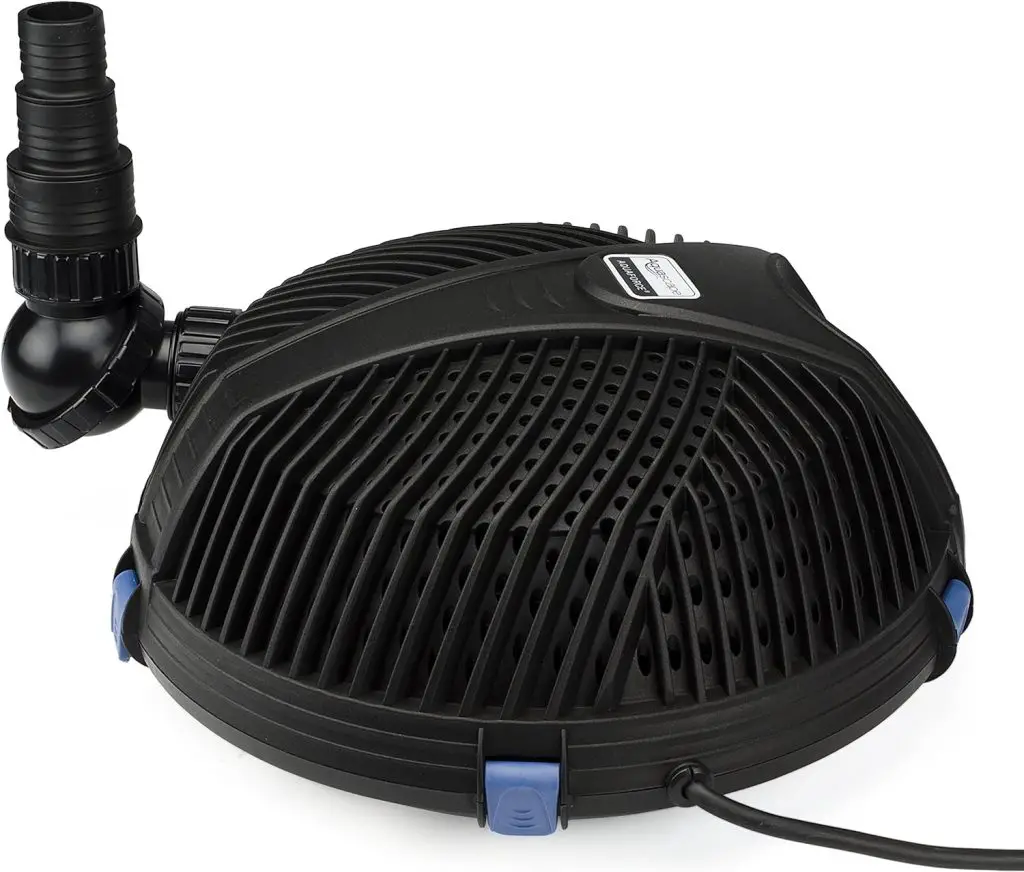 This pump is powerful and energy-efficient. It's suitable for large ponds, and also available in a wide variety of sizes. Despite its tendency to get clogged with large debris, its overall performance and energy efficiency make it a top choice.
Model Name: Aquascape AquaForce Asynchronous Pump
Type: Submersible
Maximum Flow Rate (GPH or LPH): 2,695 GPH
Power Consumption (watts): 165 watts
Power Cord Length (ft or m): 25 ft
Warranty (years): 3 years
Additional Features:
Protective cage prevents large debris from clogging the pump
Energy-efficient asynchronous motor
Suitable for ponds up to 5,000 gallons
Cons:
Since this is a submersible pump, it's less efficient than external pumps at higher flow rates
Pondmaster PMK190 Review: Best Pump For Small Ponds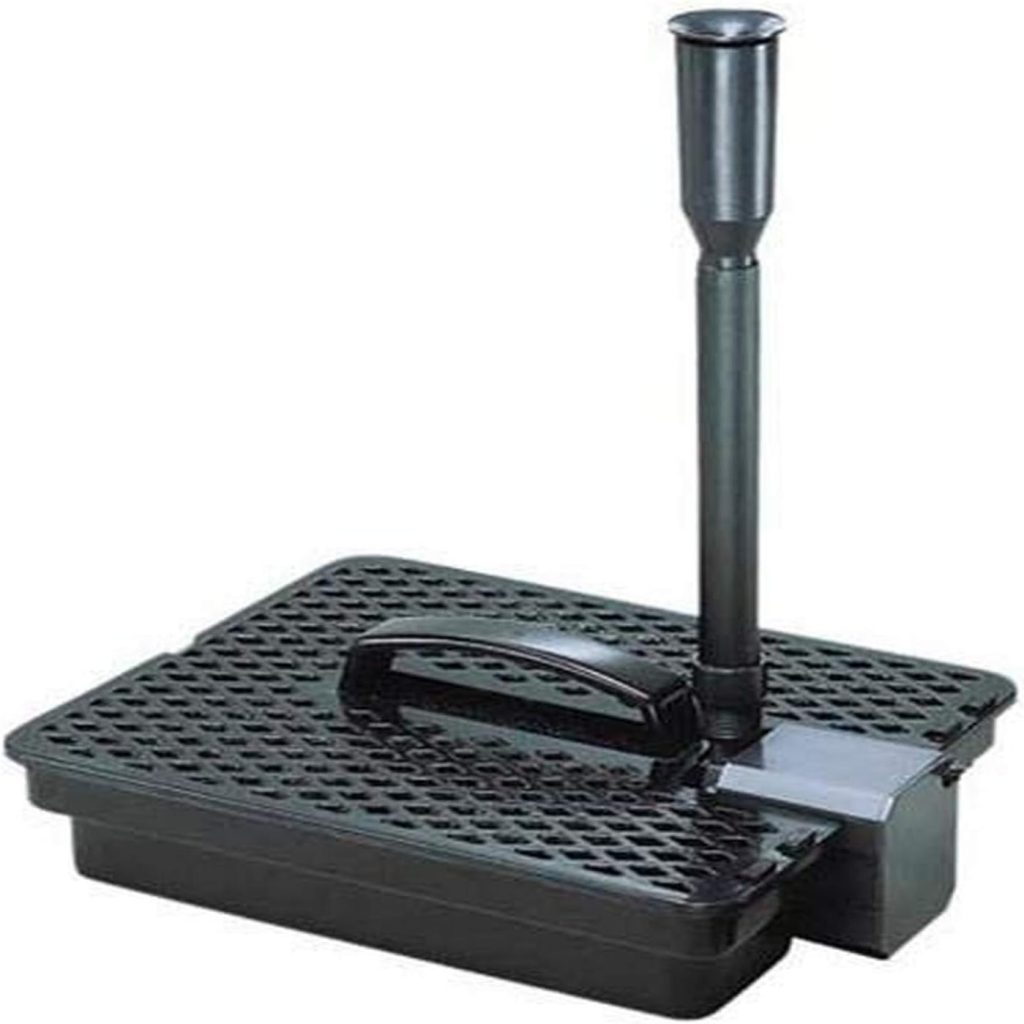 The Pondmaster PMK190 is a fantastic choice for small koi ponds. It is specifically designed for smaller accent ponds, making it an ideal fit for koi ponds of 150 gallons or less.
This pump and filter combo is also energy-efficient. It only uses 15 watts of power, and it operates silently when submerged.
Despite its small size, it offers effective filtration to keep the water clean and clear, contributing to the health and well-being of your pond's ecosystem.
Model Name: Pondmaster PMK190
Type: Submersible
Maximum Flow Rate: 190 GPH
Power Consumption: 15 watts
Power Cord Length: 10-foot power cord
Warranty (years): 3 years
Suitable Pond Size: Ideal for koi ponds of 150 gallons or less
Cons: This machine doesn't emit UV rays like some others on the market do. That means it won't kill harmful bacteria. That said, ponds this small will naturally have fewer koi and other animals. That means they're usually a simpler ecosystem that produce less waste.
DEKOPRO Submersible Water Pump Review: Best Budget Pond Pump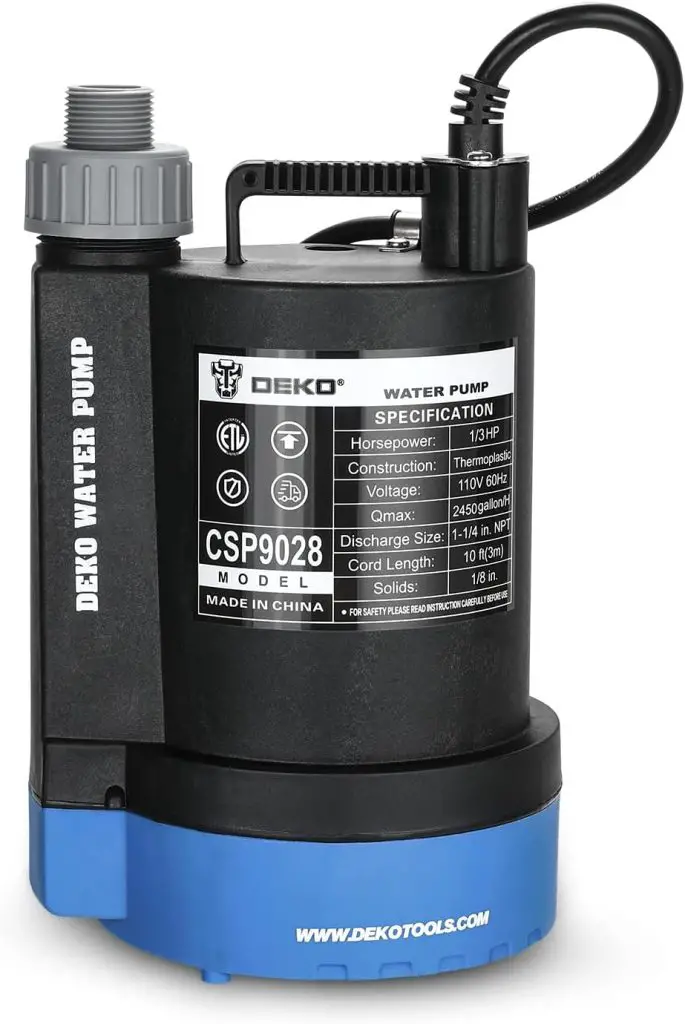 There's a reason the DEKOPRO Submersible Water Pump is a best seller. It has excellent water circulation, it's powerful, it's easy to install, and it's well-made and durable – all at an incredibly reasonable price (I think this great price is a reason you don't see this beautify on more 'best koi pond pump' review roundups, because most websites would prefer you to buy the more expensive pump!).
As a bonus, this pump is compact and lightweight, allowing for easy handling, maintenance, and adjustments as needed.
Model Name: DEKOPRO Submersible Water Pump
Type: Submersible, Thermoplastic
Maximum Flow Rate: 1800 GPH
Maximum Head Height: 25 ft
Power Consumption: 400W
Power Cord Length: 16 ft
Outlet/Input Size: 1-1/4″ and 1″
Warranty: 2 years
Additional Features: Portable handle, automatic float switch
Pro-tip: You'll want to submerge the pump at an angle the first time you use it, to allow any trapped air to escape.
Alpine Corporation 4000 GPH Submersible Water Pump Review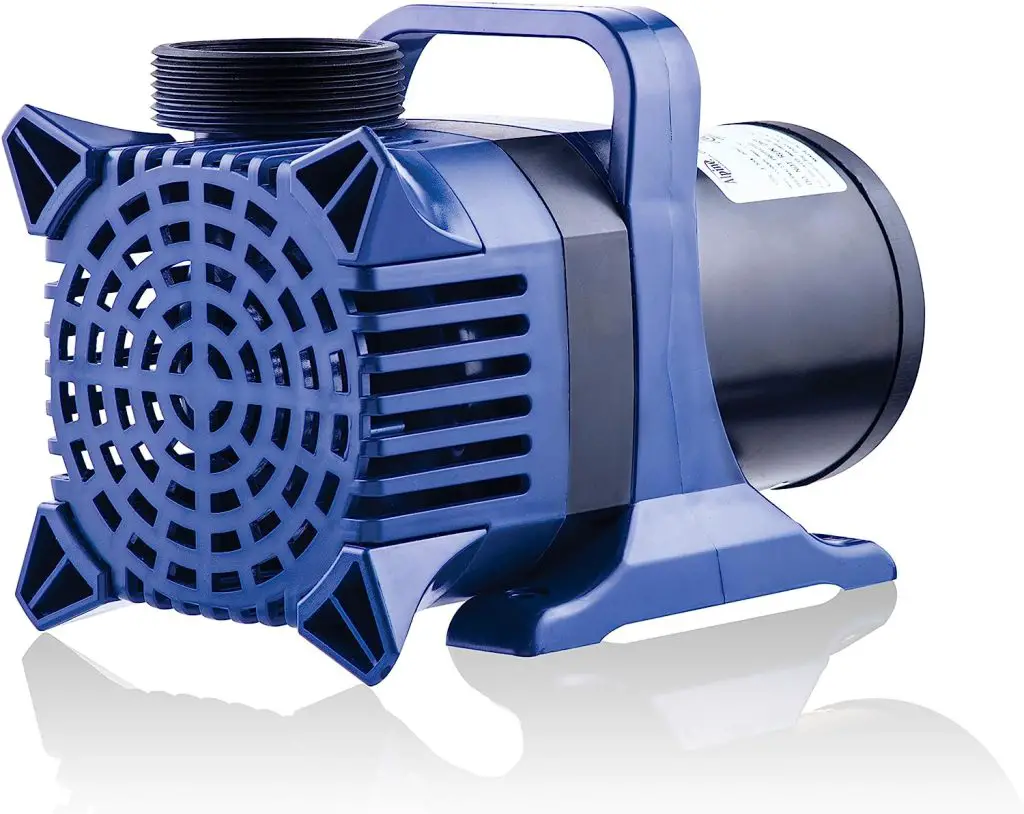 Like all the other options on this pond pump roundup, you can't really go wrong with the Alpine Corporation 4000 GPH Submersible Water Pump. Like the other pumps on this list, it's reliable and well-made. But what people really seem to love about this one is the exceptional customer service of the company.
Moreover, the pump is completely silent, which allows you to enjoy the tranquility of your koi pond, enhancing the overall experience.
Model Name: Alpine PAL4000
Type: Submersible
Maximum Flow Rate: 4000 GPH; more models available
Power Cord Length: 33 feet
Warranty: 3-5 Years
Suitable Pond Size: Ponds up to 33′ wide
Energy Efficiency: Energy Efficient Split Tube Motor
Additional Features:
Works horizontally or vertically
Includes adapters for multiple pond set-ups
Large pre-filter
Oil-free design
Aquascape AquaSurge Asynchronous Pump 2000 Review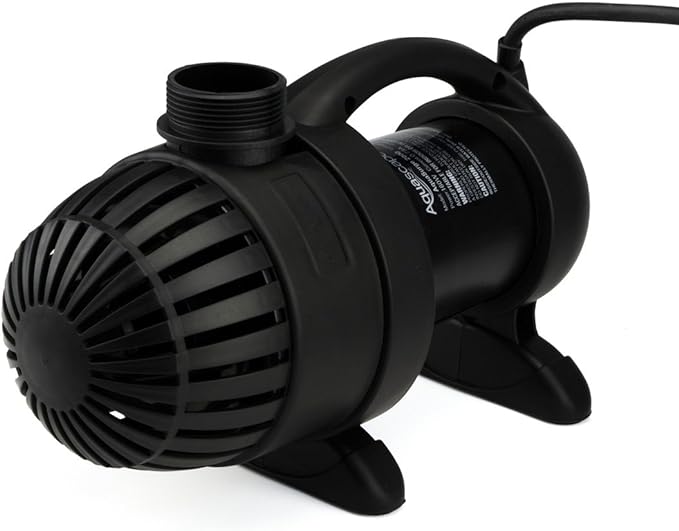 Finally, here's another great option from Aquascape. It's robust and durable, and it's low power consumption can help with energy costs. I also like that it's incredibly easy to install and comes with a variety of fittings. A rotational ball also lets you adjust the discharge position easily, so this pump is ideal for all shapes and sizes of koi ponds.
Model Name: AquaSurge
Type: Submersible, Asynchronous
Maximum Flow Rate: 2,193 GPH (for AquaSurge 2000 model; more models available)
Maximum Head Height: 12.5 feet (for AquaSurge 2000 model)
Power Consumption: 160 watts (for AquaSurge 2000 model)
Power Cord Length: 20 feet
Outlet/Input Size: 1.5-inch MPT
Warranty: 3-year limited warranty
Additional Features:
Designed for use in skimmer and waterfall-filter systems
Can be used in either vertical or horizontal orientation
Comes complete with all necessary fittings; rotational ball output allows discharge position to be easily adjusted
A Note on Fountain Pumps
Fountain pumps (also called dirty water pumps) can be a great choice for many small ponds. However, they are usually not a good choice for koi ponds. That's because they are not designed to handle solids. While they may have an internal sponge or mesh filter to protect the pump from damage or blockage, but smaller debris may still pass through.
Fountains ponds can clog easily with silt and sludge when they are used in bigger ponds, especially those with koi and other animals. That means they require frequent maintenance. While they can be used to run filters, waterfalls, and pond-side ornaments, they are not as efficient as standalone filter pumps.
So if you have a koi pond or a large pond, you'll want to choose a filter pump like we've covered in this article. The pumps I have reviewed here are much more robust and can handle solids. They're what you want for low maintenance and effective operation.
So, while fountain pumps can work in some ponds, their limitations make them less appropriate for koi ponds, where effective filtration and handling of larger debris are crucial for maintaining a healthy environment for the fish.
Wrapping Up: Finding Your Perfect Koi Pond Pump
As we wrap up our deep dive into the best koi pond pumps, let's revisit some highlights. My personal favorite pump remains the OASE AquaMax EcoPremium. It's what I use, because it's reliable and efficient. And its innovative features like frost protection and environmental function control truly set it apart.
But remember, while the OASE is a fantastic choice, the best pump for you hinges on your unique pond needs and specifications.
Every pond has its own heartbeat, and understanding yours is crucial in making the right choice. From pond size and water volume to energy efficiency and durability, each factor plays a pivotal role in ensuring your koi thrive in a clean and healthy environment. While I have a soft spot for the OASE, there's a world of exceptional pumps out there, each with its own set of benefits.
So, take a moment to reflect on your pond's specific requirements, budget, and desired features in a pump. Explore the diverse range of pumps available, and weigh the pros and cons of each. Remember, a well-chosen pump not only ensures the well-being of your koi but also contributes to the ecological balance of your pond. It's a valuable investment, and one you need to take seriously!
Related Questions
Does a koi pond need a pump?
Yes, a koi pond needs a pump. A pump helps in circulating water, providing oxygen, and ensuring proper filtration, all crucial for maintaining a healthy environment for the fish.
How often should I clean my koi pond pump?
Clean your koi pond pump at least every 2-4 weeks. Regular cleaning ensures optimal performance and longevity of the pump, contributing to a healthier pond environment.