Best Koi Carp Books: 23 Must-Read Books For Anyone Who Has, Wants, or Loves Koi!
Do you love koi and reading? Or are you looking to expand your knowledge of koi so you can care for your own better (or prepare to start your koi journey?) Then keep reading!
Here is a complete list of vetted koi carp books that you can use to enhance your koi care skills and knowledge, as well as to indulge your koi passion. Reading these books can help you keep your koi fish healthy, your koi pond beautiful, and your brain stimulated!
In this article, I'm featuring my favorite resource books and guides for koi beginners, koi experts and professionals, koi enthusiasts, and every one in between. I'm even sharing some books for kids, some books about pond maintenance, some coloring books, and a visually inspiring book with beautiful photographs (makes a great gift!).
Why Should You Read Books About Koi?
You should read books about koi if you're interested in buying koi and/or if you have them already, so that you can no only take better care of them, but understand their unique qualities, too. Yes, you can source a lot of this information online (and I'll share some good online resources below). But having this information all in one place can help you understand the complete picture of koi ownership … all in a package that won't break if it falls in the water or gets splashed! (You just might need to air it out a bit!!!)
In fact, if you're like me, then you might find books are great to read pond-side, without pulling out your phone and getting distracted by rabbit holes.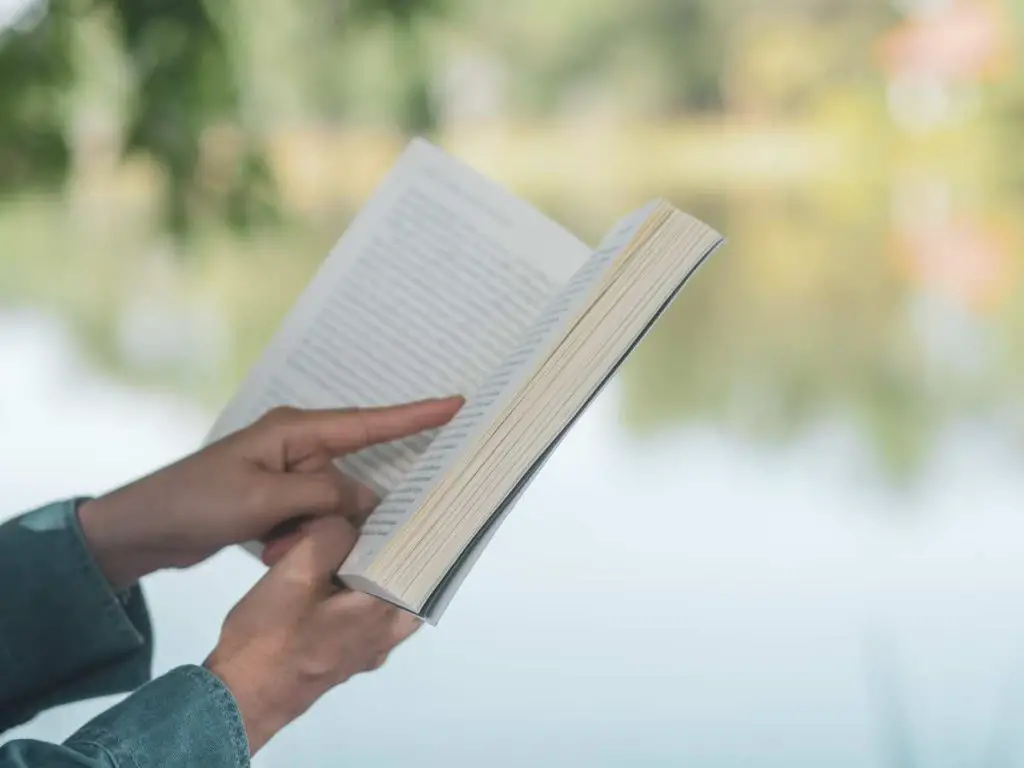 And, as I'll share below, there's lots of fun books out there if you've got any interested in anything koi, whether that's improving your koi care, sharing your passion with your children, displaying your passion on your coffee table, or even coloring to relax.
Yes, there are numerous online resources available. But nothing compares to the depth and comprehensiveness of a good koi carp book. Books provide a wealth of information that covers all aspects of koi carp care, from setting up the perfect pond environment to understanding their nutritional needs and preventing common health issues.
So to truly become a koi carp aficionado, immerse yourself in the knowledge and wisdom that these books offer. With the right books as your guide, you'll gain the confidence and expertise to create a thriving koi pond that will bring you joy for years or even decades to come.
The Best Koi Carp Book (It's New!)
The best koi carp book is How To Kill Your Koi by Jessie Sanders, a vet who just happens to have extensive koi knowledge and a way with words. So it's an information read, but a very fun one, too.
Since it was just written in 2022, many in the fish community many not have heard of this book yet. Trust me: they will soon!
Here's the full review:
How to Kill Your Koi
⭐️⭐️⭐️⭐️⭐️ (4.5)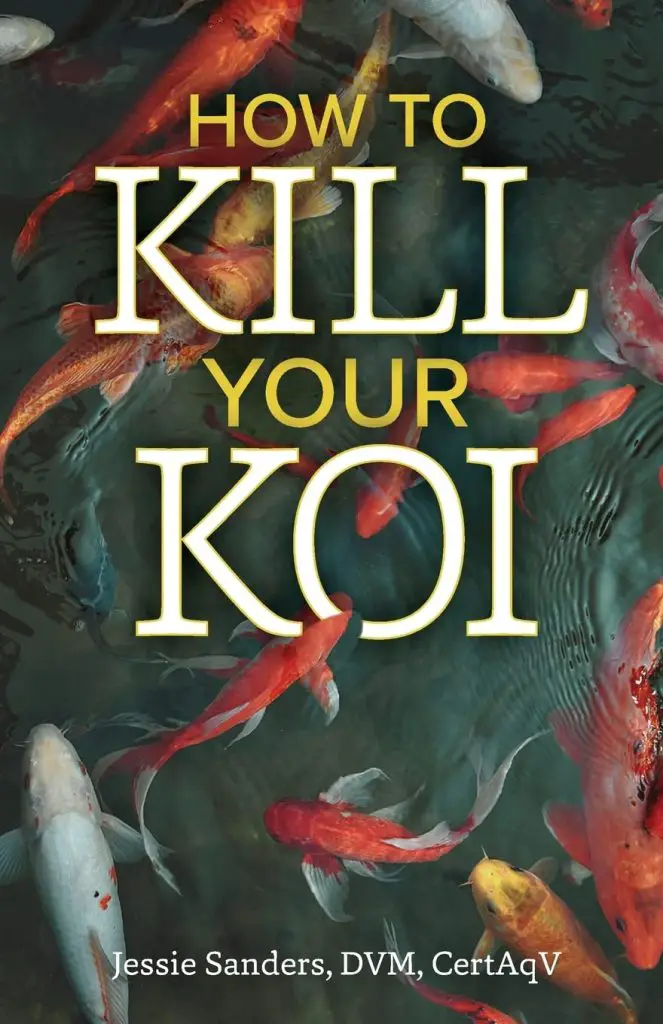 This book is a treasure for both novice and seasoned koi owners, offering a clear, concise, and easily understandable guide to koi care, with exceptional quality and content. The author' is a seasoned fish veterinarian, and she infuses the book with her insights, making it a reliable source for practical and essential fish health advice.
I love how logical this book's structure is, organized by questions and topics. This makes it easy for readers to find specific information.
The book also effectively debunks numerous myths and offers a clear path for navigating the extensive information available online about koi care. Dr. Sanders' engaging writing style keeps the reader's attention, breaking down complex information into digestible pieces, making it an essential and valuable resource for koi owners.
Now, let's talk about the author, Jessie Sanders. She's not just any veterinarian; she's a Certified Aquatic Veterinarian, recognized by the World Aquatic Veterinary Medical Association. Her mobile private veterinary practice, Aquatic Veterinary Services, serves fish clients in California and Nevada, emphasizing her commitment to enhancing the quality of life for fish and empowering fish owners. Her educational background is robust, holding a B.S. in Marine Biology from the University of Rhode Island and a DVM from the Cummings School of Veterinary Medicine at Tufts University. Her active involvement in various veterinary associations underscores her dedication to fish owner education and the well-being of aquatic life.
In my view, the combination of Dr. Sanders' extensive knowledge, practical experience, and the comprehensive content makes How to Kill Your Koi a top pick for anyone seeking to enhance their understanding and skills in koi care. The fact that it's authored by a certified aquatic veterinarian adds a layer of reliability and authority to the information, making it a trustworthy and indispensable resource for every koi enthusiast.
My Favorite Top Books About Koi
| Book Title | Best For | Key Features |
| --- | --- | --- |
| How To Kill Your Koi | Beginners and experienced koi keepers | Written by a certified aquatic veterinarian; comprehensive and practical koi care advice; debunks common myths |
| Koi: A Complete Guide to their Care and Color Varieties | Beginners and enthusiasts | Beautiful photography; extensive coverage of koi care, health, feeding, pond setup; identification guides |
| Koi For Dummies | Total beginners | Clear, concise information on koi care basics; focus on artificial ponds |
| The World Of Koi: Comprehensive Coverage, From Building A Koi Pond to Choosing Color Varieties | Beginners | Combines pond building and koi care advice; similar content to Koi: A Complete Guide book |
| Manual of Koi Health: How to Create a Healthy Environment for Your Koi and How to Treat Any Sickness that May Afflict Them | Beginners and advanced hobbyists | Focused on koi health, diseases, treatments; detailed pictures and descriptions |
| Koi (Complete Pet Owner's Manual) | Beginners | Comprehensive koi care guide; sections on feeding, health, diagnosing problems |
| A Fishkeeper's Guide to Koi: Comprehensive Advice on Maintaining and Displaying These Spectacular Ornamental Carp | Beginners on a budget | Affordable price; colorful photos; equipment recommendations |
| Advanced Koi Care: For Veterinarians and Professional Koi Keepers | Veterinarians, professional koi keepers | Extensive, detailed koi care advice and guidance |
| Koi Appreciation: The First Step | Enthusiasts | Understanding koi varieties, origins, and quality; filled with photos |
| Koi: A Modern Folk Tale | Enthusiasts; coffee table book | Artistic, visually stunning photography book; poetic journey |
A table of the best books for koi, along with their key features
5 More Top-Rated Koi Carp Books for Beginners
While I think How To Kill Your Koi is well-suited for beginners (as well as for more seasoned koi minders), that doesn't mean you need to stop there. Especially if you're koi-curious or just starting out, there's a world of other great tomes out there for you.
To ensure you're equipped with the knowledge and skills to care for your koi properly, here are six more great koi carp books that are perfect for beginners:
Please note that some details of the books in this article (like their Amazon rating, for example) are accurate to the best of my ability as of writing this article, but may change in the future.
Koi: A Complete Guide to their Care and Color Varieties ⭐️⭐️⭐️⭐️⭐️ (4.7)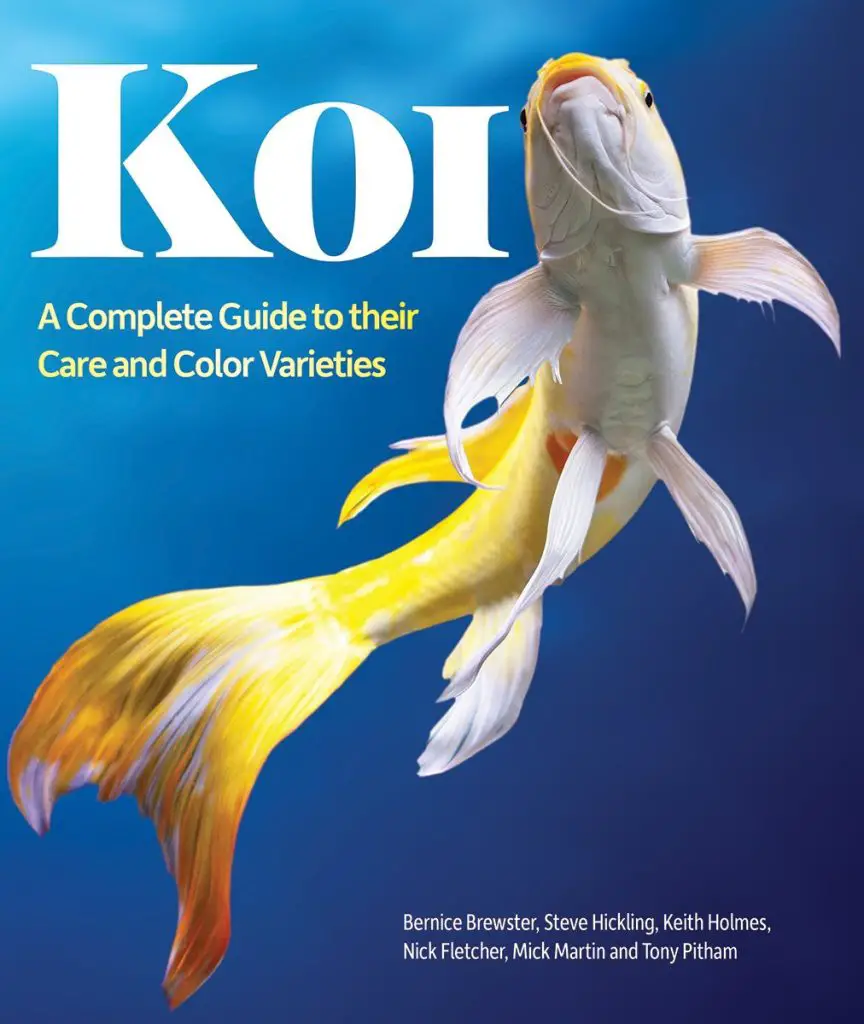 This book is a comprehensive and valuable guide for both beginners and experienced koi keepers. It is filled with useful information and detailed descriptions. It's also filled with high-quality pictures making it great for coffee tables.
I like that this book covers such a wide range of topics including pond setup, maintenance, health, feeding, and koi varieties. It also includes microscopic images you can use for properly identifying parasites.
Oddly, this book doesn't cover butterfly koi, and it's not quite as well structured as How To Kill Your Koi. That said, it's still a very beautiful and helpful book, and it's beautiful design and imagery makes it an enjoyable read.
Koi For Dummies
⭐️⭐️⭐️⭐️⭐️ (4.5)
"Koi For Dummies" is a practical and understandable guide for koi care, making it a valuable resource for new koi owners and those looking to revisit the basics. Be aware that it focuses on artificial ponds, and that there's limited information for long-time fish keepers. Like you'd probably expect, it also doesn't have the beautiful photography you'll find in many of these books.
Still, despite these limitations, this book provides clear and concise information at a very reasonable price point.
The World Of Koi: Comprehensive Coverage, From Building A Koi Pond to Choosing Color Varieties
⭐️⭐️⭐️⭐️⭐️ (4.6)
I really like how this book combines and covers various aspects of both koi care and pond building. It's packed with helpful and comprehensive knowledge and could make a lovely addition to your library.
That said, note that if you already have Koi: A Complete Guide to their Care and Color Varieties (covered above), then you will likely find a lot of info in this book to be repetitive. The books share an author and some similar content and imagery. In a lot of ways, you can think of this book as the shorter, condensed (but still helpful) version.
This is a good book for both new and advanced hobbyists, with detailed pictures and descriptions of diseases and possible treatments. It, too, has some overlap with Koi: A Complete Guide to their Care and Color Varieties. But if you'd like an authoritative and concise guide to koi health, diseases, and treatments, you could certainly do both – especially if you're a beginner.
Koi (Complete Pet Owner's Manual)
⭐️⭐️⭐️⭐️⭐️ (4.5)
Rounding out my recommended koi carp books for beginners is Koi (Complete Pet Owner's Manual). And, like the title suggests, it's a complete pet owner's manual!
The book is a great for beginner Koi owners, because it offers extensive insights into various aspects of Koi care including feeding, health issues, and diagnosis of problems. You'll find the detailed section on types of medicines and health issues to be exceptionally helpful.
All said, I think you'll find this to be a reliable guide. It's simple and straightforward, making it an accessible and easy-to-follow resource.
Best Book For Koi Keepers On A Budget
Most of the books on this list don't come with whopping price tags. In fact, How To Kill Your Koi comes in well under $20 as I'm writing this.
That said, again at the time of writing this, this is the cheapest informative koi carp book on my list of best books, and it's still a good read.
A Fishkeeper's Guide to Koi: Comprehensive Advice on Maintaining and Displaying These Spectacular Ornamental Carp
⭐️⭐️⭐️⭐️⭐️ (4.5)
"A Fishkeeper's Guide to Koi" stands out as a good budget koi book for beginners, offering a wealth of knowledge without breaking the bank. The book is lauded for its extensive and colorful photographs, providing a visual and informative guide for maintaining and displaying koi. It covers a wide spectrum, including detailed pictures of equipment essential for koi keeping, making it a comprehensive resource for novices.
This book is a great choice for individuals embarking on their koi keeping journey. It offers a blend of visual appeal, informative content, and affordability, making it a valuable addition to a beginner's library.
6 Advanced Koi Carp Books for Enthusiasts
If you're an avid koi carp enthusiast and you're looking to take your knowledge and skills to the next level, these advanced koi carp books are perfect for you.
Advanced koi care: For veterinarians and professional koi keepers ⭐️⭐️⭐️⭐️⭐️ (5)
"Advanced Koi Care: For Veterinarians and Professional Koi Keepers" is a highly esteemed book in the realm of koi care, lauded for its comprehensive and detailed information. It's hailed as a must-have, providing extensive insights and guidance on caring for koi, making it an invaluable resource for both veterinarians and professional koi keepers.
That said, despite its extensive information, I'm keeping my fingers crossed for a more updated version. We live in an ever-evolving field of koi medicine and care, with continuous advancements and discoveries enhancing the scope of koi care. The current edition, while thorough, doesn't include the latest knowledge and techniques in koi care (it was written in 2002)
Still, its rich content, detailed guidance, and comprehensive approach make it a crucial resource for koi care. Despite my call for a more recent edition, the book holds its place as an essential guide for veterinarians and professional koi keepers, solidifying its high recommendation for those in the field.
Koi Appreciation: The First Step
⭐️⭐️⭐️⭐️⭐️ (4.8)
This book is excellent for understanding koi varieties and evaluating their quality. It's a great read for anyone looking to learn more about koi and their origins (and for anyone looking to master the variations of koi), although note that it doesn't focus on koi raising itself.
This book is also filled with lots of great pictures. If I were looking to gift a book to a koi lover I know (who already know their stuff), this would definitely be on my list.
Pre-warned: this isn't a book as such. It's a scientific and detailed study on the genetics and evolution of koi and carp. And scientific and detailed it is!
So if you really want to indulge your scientific interest in koi and how they evolved (including how they inherit their colors and other traits), this is the one for you!
A comprehensive guide that provides a wealth of information about Koi health and disease, with detailed diagrams and descriptions. Well-written and easy to understand, it's like having a vet on your bookshelf, especially when it comes to gill flukes and and other parasites.
While some people may be put off by the black and white photos, this book remains a valuable resource for understanding and maintaining a healthy koi environment.
Fish Disease: Diagnosis and Treatment
⭐️⭐️⭐️⭐️⭐️ (4.5)
Fish Disease: Diagnosis and Treatment is a comprehensive and meticulously sourced scientific textbook covering all fish, not just koi.
As such it's a valuable resource for advanced fish keepers and aspiring veterinarians, providing extensive information on fish diseases and treatments. Despite its high price and technical language, it's still a comprehensive guide for those equipped with the necessary background knowledge and tools.
Note: Not suitable for beginners or those not well-versed in advanced biology and chemistry. And while it's an excellent resource for understanding and diagnosing fish diseases, it requires a good koi microscope for full advantage (but would be a great resource if you do have one!).
Koi Kichi
⭐️⭐️⭐️⭐️⭐️ (4.7)
Koi Kichi by Peter Waddington is a treasure trove of comprehensive and useful information about koi.
The book's content spans a wide array of topics, offering insights into history, breeders, Japan, health varieties, and more. It stands as a fundamental resource for serious koi keepers, solidifying its place in the library of any dedicated enthusiast. Despite its age, "Koi Kichi" continues to be an educational and valuable asset for koi enthusiasts, offering a depth of information that remains relevant today.
However, be aware of the author's strong and unwavering opinions. His firm stance on certain topics, especially filtration, may not align with the current trends and advancements in koi keeping. Indeed, I think this information specifically regarding filtration technology is somewhat dated. This highlights when the book was written (1995) , reflecting the transition in koi keeping practices and technologies over the years.
Still, I highly recommended for koi lovers, many of whom and regard it as the only koi book you need (not bad, given its almost 30 years old). Its extensive information, historical insights, and detailed exploration of various koi-related topics make it a must-have for serious enthusiasts. Despite certain outdated sections, the book holds its value as a collectible and comprehensive guide in the world of koi keeping.
The Best Coffee Table Koi Carp Book (Beautiful Photography Book of Koi
When it comes to koi carp books, there's nothing quite like stunning photography to capture the beauty of these mesmerizing fish. Whether you're an enthusiast or a beginner, books with beautiful visuals can inspire and guide you in creating your own koi pond paradise. Pro-tip: these also make great gifts for the koi-lovers in your life!
I haven't found anything better than Koi: A Modern Folk Tale when it comes to finding the best coffee table koi book. In a word, it's gorgeous.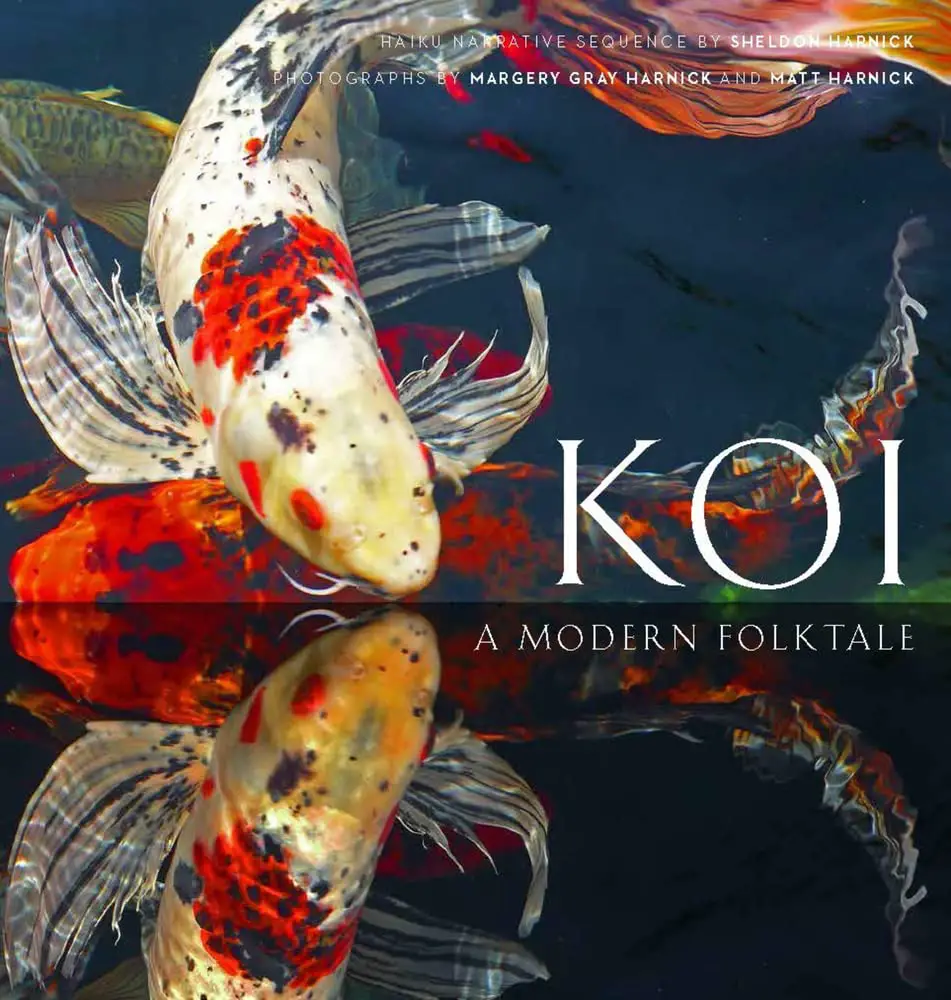 If you're looking for an in-depth informational guide about koi, then Koi: A Modern Folk Tale isn't it. But if you're a light, artistic and beautiful exploration of koi, this one's for you. Indeed, some people talk about crying when they first read it, saying that just 'thumbing through it' is a 'spiritual experience.'
According to Markos Papadatos of Digital Journal, "Koi: A Modern Folktale is a magnificent read, and the exquisite photographs by Margery Gray Harnick and Matt Harnick help elevate the book to a higher level. It truly transports the reader to different realms, and it touches their reading audience on an emotional level, thus leaving them in total awe of the koi."
Complaints about this book seem to stem from people who were expecting more extensive knowledge and more diverse visual representations of koi. But if you're looking for a unique visual journey coupled with poetry, this is a great one.
Koi Pond Books
Of course, if you're thinking about getting koi, then they're going to need a place to live! And for most people, that will be some sort of indoor or outdoor pond. And ponds require a lot of work (although they're totally worth it!).
So if you're looking for some great resources for building and maintaining your pond, here are some classic go-tos.
Garden Ponds, Fountains & Waterfalls for Your Home: Designing, Constructing, Planting
⭐️⭐️⭐️⭐️⭐️ (4.6)
This is an extremely detailed guide that provides lots of pictures and step-by-step information for building and maintaining gardens and water features. It's filled with several ideas for inspiration, all accompanied by practical tips to bring these ideas to life, effectively combining dreams with practicality.
Garden Ponds, Fountains & Waterfalls for Your Home offers good coverage of essential topics such as water chemistry, monitoring, and care, including common issues and their solutions. The book is also available in a spiral form, making it convenient to use as a workbook (great for taking with you as you work!). This format allows readers to easily refer to the information as they work on their projects.
However, note that while the book is excellent for man-made ponds, it may not be as useful for natural ponds or streams. Despite this limitation, the book is beautifully illustrated, providing endless pictures that have assisted many readers in their pond-building endeavors.
In addition to its practical advice and visual aids, the book gives a comprehensive overview of pond sites and options, helping readers understand all the necessary considerations before starting a pond project. This extensive coverage ensures that readers are well-prepared to undertake their pond, fountain, or waterfall projects.
Ultimately, this book is a comprehensive and highly recommended guide for anyone looking to build or maintain a garden pond, fountain, or waterfall. It stands out for its detailed information, practical tips, and beautiful illustrations, making it a valuable resource for both beginners and experienced individuals.
And …. there's a sequel!! Check it out next:
DIY Guide to Ponds, Fountains, Rain Gardens & Water Features, Revised Edition
Creative Homes put out there first all-things-pond-guide (above) in 2011 – and it's still highly recommended.
But they've just put out what Kirkus Reviews calls a 'worthy sequel' now in 2023. The updated edition includes fresh information on rain gardens and the most recent products available in the market. It features a new chapter dedicated to the creation of natural, chlorine-free swimming ponds. Additionally, it offers enhanced insights into construction and planting techniques, among other topics.
Ultimately, this is a comprehensive guide for designing, constructing, and planting with aquatic plants, fish, wooden bridges, and more, put out by the same team that made what many consider to be the Bible of outdoor ponds.
The EZ Guide to Building a Koi Pond: Welcome to the Wonderful World of Koi
⭐️⭐️⭐️⭐️ (3.9)
While you can't go wrong with either of the book mentioned above, I like how this one is dedicated excuslively to koi ponds. And this is a really a helpful book for those who want to build a koi pond but don't know where to start. It guides you from the start of planning all the way to having a finished pond filled with fish and plants in your backyard. It also has useful pictures and information to help you build and take care of koi ponds.
Note that this book doesn't include much about setting up a filter system, so you may need to seek our more resources on that front. Still, I think this book can be a good help for beginners in building a koi pond. It gives a step-by-step guide and useful information. But it's also good to know that some readers wanted more details in some parts of the book, and some were not happy with the price of the ebook.
Koi Books For Kids!
If you have a koi pond at home and kids who are curious about those beautiful fish, or if your kids are just fascinated by fish in general, it's a great idea to nurture their interest with some engaging koi books for children. These books are specially written for young readers and are filled with fun facts, colorful pictures, and easy-to-understand information about koi fish. They not only provide knowledge about koi but also help in building a child's interest in nature and animals. It's a wonderful way for parents and children to learn together about koi fish, their habits, care, and beauty.
These delightful children's books that make learning about koi fish an enjoyable adventure for kids.
"Fun Facts About Koi Fish" is a delightful and educational short picture book for children, holding a stellar five-star rating. Although there are no written reviews to delve into detailed insights, the book's perfect rating speaks volumes about its quality and content. It is crafted to answer 41 frequently asked questions by koi pet owners and lovers, providing young readers with a wealth of knowledge about koi fish in an engaging and accessible manner.
Ideal for children with an interest in koi fish or pets in general, this book stands as a valuable educational resource. It seamlessly blends learning with enjoyment, offering kids a fun and informative reading experience. The book's focus on answering common questions ensures that it is not just a source of entertainment, but also a helpful guide for curious young minds seeking to learn more about koi fish.
Here's a delightful book for children who are eager to explore the world of koi fish. Written and illustrated by Jeremiah Wang, readers can "join the two fearless fishy friends on their fantastic swimming feat. Will they succeed? Or will they fall into the terrible jaws of defeat? Allow yourself to be immersed in the bubbles of these two resilient fish as they plunge into their dangerous journey."
Just A Girl Who Loves koi fishes: Cute koi fishes Lovers Journal
Here's a great little gift for a child (or yourself? ????) who loves koi. Ultimately, it's simply a personalized and thematic space for jotting down you thoughts, reflections, and notes (perhaps related to koi fish). I think it would also be a great space for your koi drawings.
Bonus: Koi Coloring Books!
Now, let's add a splash of color to our koi adventure! In this bonus section, we're exploring some wonderful koi coloring books for adults. These coloring books are filled with beautiful koi designs that will provide hours of relaxation and creativity. They're perfect for anyone who loves koi and wants to enjoy creating their own colorful koi artwork. And guess what? Even older kids or teens who love to color might have fun with these books.
So, grab your colored pencils, markers, or crayons and get ready to dive into the world of koi with these fantastic koi coloring books.
(And best of all? They're all pretty inexpensive!0
Koi fish Coloring Book for Adults: Beautiful Japanese Koi Fish Coloring Book Anti-Stress Relief and Adults Relaxation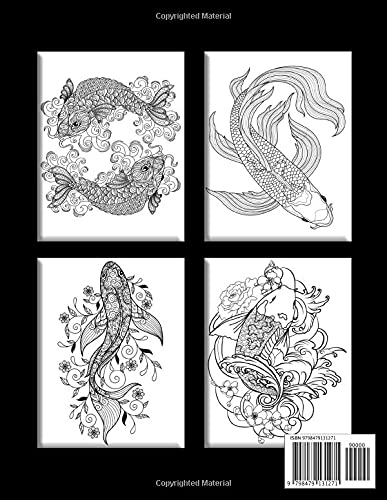 A fun book that includes blank pages for your own drawings. Some of these would make great tattoos!
Koi Fish Pond – Coloring Book For Adults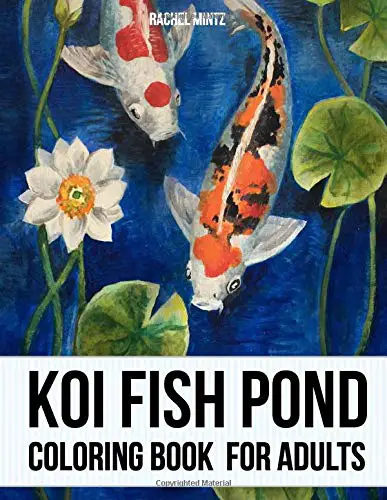 A beautifully detailed coloring book great for adults and teens.
Koi Fish Coloring Book for Adults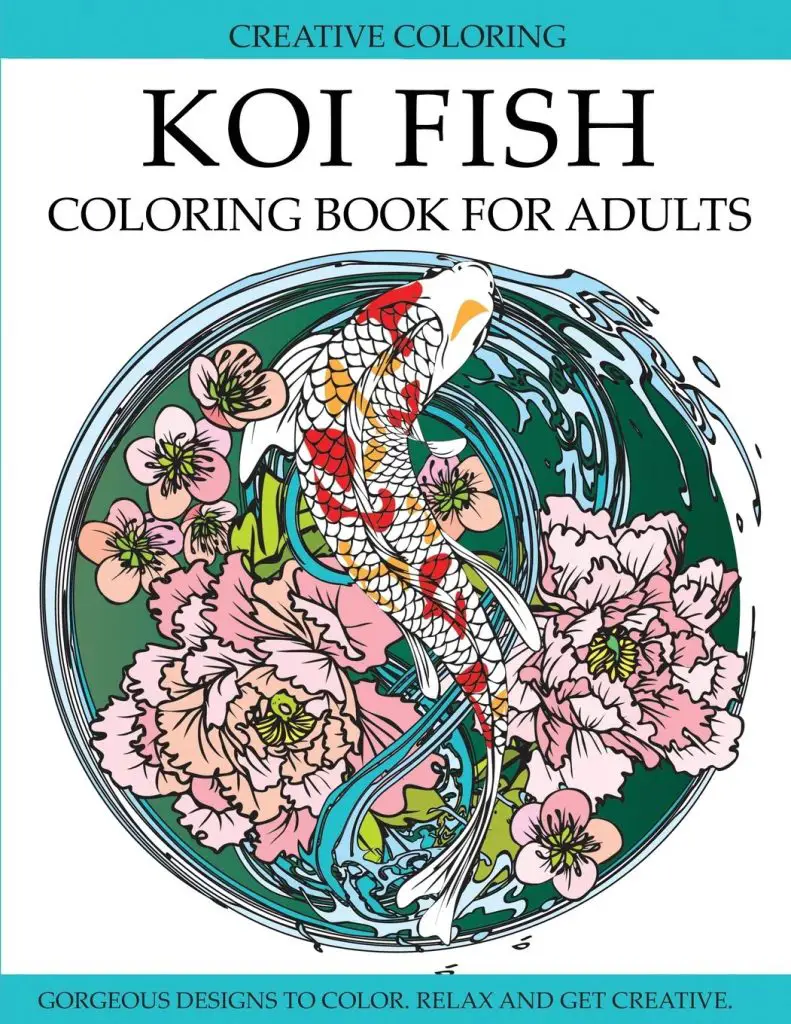 30 beautiful illustrations in a range of styles.
Read To Learn And Enjoy Your Koi Fish Even More!
Books are a wonderful way to deepen your knowledge and appreciation of koi fish. Whether you're a beginner looking to learn the basics of koi care, or an experienced enthusiast seeking to take your skills to the next level, koi books offer comprehensive guidance unavailable online.
By reading koi books, you gain access to in-depth information on all aspects of keeping healthy, vibrant koi. From pond setup to nutrition, disease prevention and treatment, koi varieties, and more, quality books provide extensive coverage to help you become an expert koi keeper.
Additionally, nothing beats curling up with a beautifully illustrated coffee table book of koi photography. Visually stunning koi books nourish the soul and remind you why you fell in love with these mesmerizing fish in the first place.
So enrich your koi journey by exploring the excellent books we've recommended. Immerse yourself in the tranquility of the koi pond through both learning and appreciating the beauty of these elegant fish. Happy reading!
Key Takeaways: All 23 koi books mentioned in this article!
Related Questions
Are there any koi carp books specifically for children?
Yes, there are several delightful koi carp books written specifically for children. In particular, "Fun Facts About Koi Fish: 41 Frequently Asked Questions by Koi Pet Owners & Lovers" is an educational yet fun book that use engaging stories, beautiful illustrations, and easy-to-understand facts to teach kids about koi fish. There are also story books, like "Koi Fish and Salmon's Adventure!" by Jeremiah Wang, which feature koi as characters. There are also koi coloring books on Amazon that can be suitable for older children and teens. These books can all help nurture children's interest in nature, animals, and koi fish.
Can I find koi carp books in digital formats, such as eBooks or audiobooks?
Yes, many of the excellent koi carp books discussed in the article are available in eBook format for digital reading. If you prefer digital books or want to read on the go, there are great options to choose from. However, certain koi books, especially photography-focused coffee table books, may only be available in print.