5 Best Pond Vacuums for Small Ponds: Effective & Affordable!
Sludge – even the word is gross, and it's gross when it accumulates at the bottom of your backyard pond. It's why it's so important to clean your pond regularly, with the best pond vacuum for its size – and for your budget and time constraints.
Smaller, cheaper, and hose-operated vacuums are best for small ponds, because they are easy to use and easy to store, while still doing the job well. My favorite vacuum for small ponds is the affordable POOLWHALE Portable Pond Vacuum, but there are several other that will do the trick, depending on your needs.
If you have a small pond, then that's probably because you're limited on time or working with a limited budget. There are all kinds of big, beautiful pond vacuums that will run you $300 or more. They're great – but for small ponds, they're usually overkill.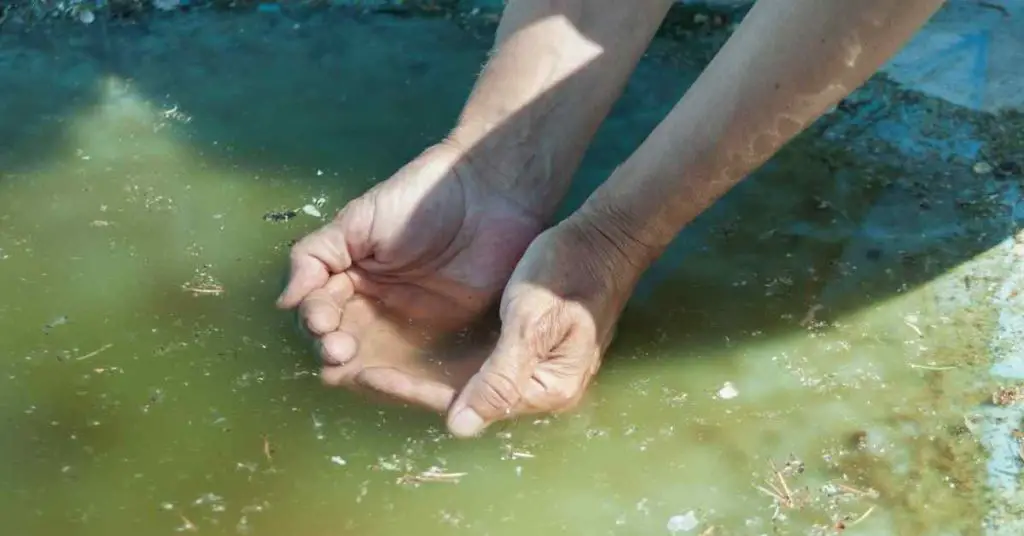 Small vacuums are best for small ponds – keep reading for my top picks and why I chose them, or jump to the pond vacuums now. First, I'll cover the difference between electric and pond vacuums, and why the difference matters.
Water Powered vs Electric Vacuums – What Is The Absolute Best Choice for Small Ponds?
Pond vacuums do just what you think they do – they suck up sludge and debris from the bottom of ponds, lakes, fountains, aquariums, and pools. They're useful because they they make it easy to maintain a healthy pond ecosystem, without having to drain your whole pond (which stresses out your fish and is just a pain – learn more about the process of cleaning your pond here).
Because you're cleaning a body of water and not, say, your living room floor, pond vacuums work a little bit differently than regular vacuums. Instead of sucking up air, they suck up water. A filter then separates out any sludge and debris, so that the water that flows back out through the filter is cleaned.
If you have a medium to large sized pond, then you will want to invest in an electric powered vacuum. Smaller and simpler options likely will be too time consuming to use, and they might not have enough power to do the job properly.
But if you have a small, well balanced pond that you maintain relatively well (ie, you don't let it get overrun with filth), then a water powered vacuum will work for you. These types of vacuums use pressure from your garden hose to create suction. They're generally much more affordable than electric, and because they're smaller, they're easier to maneuver and store.
Something to bear in mind when choosing a water powered vacuum is that the pressure of your vacuum will only be as powerful as the the water pressure of your hose. If you have an exceptionally weak hose hookup, you may want to explore electric vacuums. Otherwise, any one of the following manual vacuums could make a great choice for your pond, and there's also a great battery-powered option on this list.
Manual vacuums generally take a bit longer to use than electric ones, but to be honest, vacuuming your pool isn't something you can do super quickly no matter what you use.
Related Post: Are Backyard Pond Hard To Maintain?
Best Vacuum for Small Ponds #1: POOLWHALE Portable Pool Vacuum (The Most Affordable Vacuum That Still Works Great!)
If you read a lot of 'best pond vacuum reviews,' then you're going to see a lot of bloggers hyping up vacuums that are $300+. I am not one of those bloggers. Those expensive vacuums are great, don't get me wrong. But if you have a small pond, then consider the POOLWHALE Portable Pool Vacuum, which at the time of writing this article comes in at well under $20 (find it on Amazon here).
The POOLWHALE Portable Pool Vacuum is easy to use and easy to install. It attaches to your garden hose, which uses suction to pull dirt and debris from the bottom of your pond. The dirt is funneled to a reusable drawstring filter. When you're done vacuuming, just clean out the junk and you'll be able to use it again and again.
The filter is made from fine nylon mesh, so it will filter out a lot of waste, even little bugs. But it won't be able to get extra fine particles or algae. That's why I recommend this cleaner for small ponds only. Take a look at this video from Amazon to get an idea of this vacuum in action:
Another great thing about this vacuum is that it's small and easy to store. You can easily disassemble it after use and store it in the compact box. If you have a small pond, you likely also have limited storage space for your pond tools and accessories, so why add to your clutter?
The POOLWHALE Portable Pond Vacuum is so light and easy to use, and so cheap, that I think it's the first pond vacuum you should consider if you're just starting out. You might be surprised by the powerful little punch in delivers.
Note that if the head is not fully submerged, water will spray everyone. The head is approximately 12 inches, so if your pond is more shallow than this, this vacuum will not work for you.
Pond Vacuum #2: Python Ulti-Vac (Another Inexpensive Option That Can Suck Up Algae)
Say you want to stay on the cheaper end of the spectrum, but you're also looking to suck up some algae. AND, you want something lightweight and easy to use. Then consider the Python Ulti-Vac. This is another hose-operated pond vacuum that is cheaper than many other options – find the full listing on Amazon here.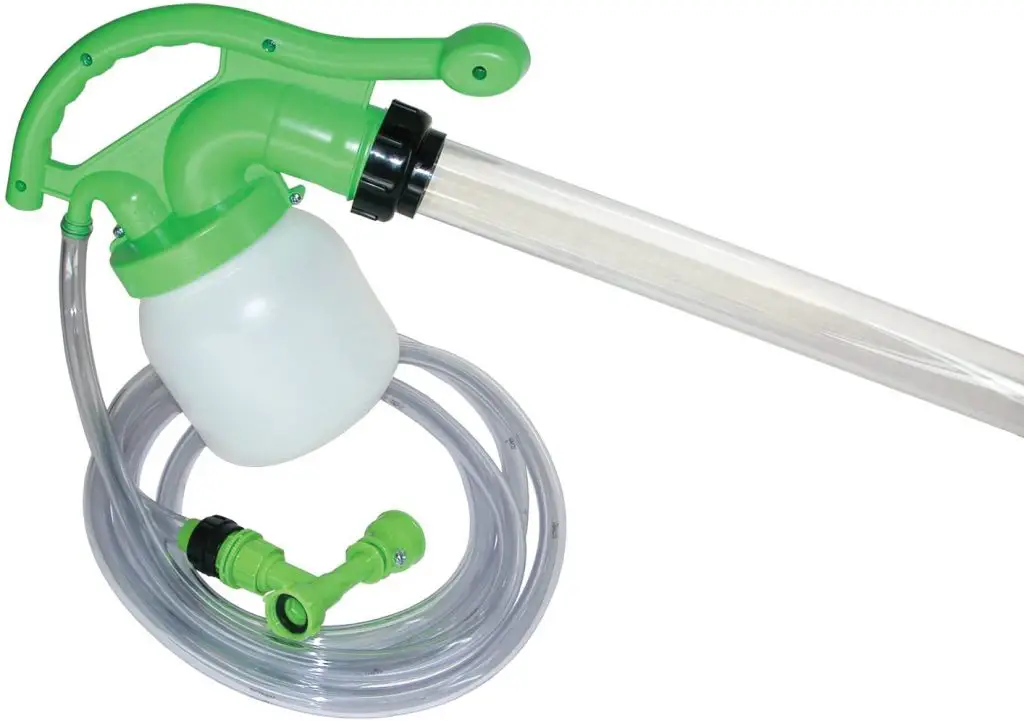 Drawbacks to this vacuum are that it really only works if your hose offers high pressure. But if you've got high water pressure and an algae problem, be sure to put this on your short list. Just be sure that you assemble carefully, so that everything is airtight, or else in may not work properly.
Pond Vacuum #3: Polaris Spa Wand (The Easiest Vacuum – No Hose Needed! Great For Touch Ups, Too)
The Polaris Spa Wand is a great choice for super small ponds, when you don't want to mess around with a hose (or even if you don't have one). I like this easy-to-use handheld device for container ponds, aquariums and fountains, as well as for touch ups in small ponds between more regular cleanings.
Find the Polaris Spa Wand on Amazon here.
The Polaris Spa Wand is mainly marketed to hot tub owners. If your pond is much larger than an average sized hot tub, you might want to consider something more substantial. But if your pond is this size or smaller, this is a great option because it's just. so. easy.
The wand on this vacuum comes with interchangeable nozzles. I like that the shape of the vacuum means you get into all those nooks and crannies that can be hard to reach.
The Polaris Spa Wand works with suction alone. A manual air pump pulls in debris into the device, which you can then clean out when you're done (watch to the end of the video below to see how to clean out the filter). This means you don't need batteries, electricity, or even a hose.
When I say 'easy,' I mean that there's no set up whatsoever involved with the Polaris Spa Wand. No messing around with your hose, nothing. You just put it in your water and start pumping. But it will take a lot longer to clean up the bottom of your pond than a typical vacuum. And it will require a little more muscle from you. That's why this is really only a workable option if you have a very small pond. Or, use it for easy touch-ups on your regular size pond, between your more substantial vacuuming and cleaning.
Note that the suction feature does require a certain amount of depth to actually work. If your water level is less than 5 inches or so, you will need to consider another option.
Vacuum #4: Intex 28620EP Rechargeable Handheld Vacuum
(More Great Suction Without A Hose)
If you don't want to mess around with a hose to clean your small pond, but you want more suction power than the Polaris Spa Wand can give you, then check out the Intex 28620EP Rechargeable Handheld Vacuum (find it on Amazon here). It's a bit more expensive, but you get what you pay for – ie, more suction than your hose can likely give you.
This vacuum is good for ponds with diameters up to 18 feet. And note that the vacuum head has to be fully submerged to work, so this won't work on extra shallow ponds. I like that it comes with two, nicely shaped brush heads, that will be perfect for getting in the corner of most small ponds.
Finally, like the name suggests, the Intex Rechargeable Handheld Vacuum uses built in Ni-MH rechargeable batteries. They take between 6-8 hours to charge fully, and they last about 40 minutes. And be prepared to take a long – like the other vacuums on this page, this isn't super speedy.
Vacuum #5: OASE 602401853010 Pondovac Classic Pond Vacuum Cleaner (If You Want To Splurge A Little!)
I've save the most expensive for last. The OASE 602401853010 Pondovac Classic Pond Vacuum Cleaner is beloved by enthusiasts with all sizes of ponds, but with the price tag (over $250 at the time of writing this article – find it on Amazon here), this is really a choice for the most committed pond owners. But if you're serious about your pond cleaning game, it's a great choice.
Pondovacs are one of the leaders in the pond vacuum world, and this vacuum is one of their cheaper models, making it a bit more accessible for the average Joe Pond Guy – and more of a reasonable choice for small ponds. It's going to clean up pebbles, silt, muck, leaves, algae and sand. It's easy to assemble, clean and disassemble, and while it's not fast (maybe you're getting the picture – vacuuming your pond can be easy, but never that quick), it's powerful and easy to use.
This vacuum is powerful enough to do a really good job up to 6 feet deep. Maximum suction happens at 59 inches and below, and it will go up to 78 inches.
Note that unlike the other vacuums on this list, this Pondovac is electric, like all the great/expensive pond vacuums. Its operating voltage is 110-120 Volts, its power consumption is 1200-1400 Watts, and the power cable is 13 feet.
Like the Intex Handheld Vacuum, this Pondovac Classic comes with multiple nozzle attachments, letting you reach all the hard to clean places in your small pond.
So, if you're looking to really invest in a pond vacuum, start with the OASE 602401853010 Pondovac Classic Pond Vacuum Cleaner, and feel free to explore the whole Pondovac line – you won't go wrong.
Final Thoughts
We all want a crystal clear pool, with the least amount of work possible. A good pond vacuum is part of that, but thankfully, if you have a small pond, it doesn't have to break the bank.